Being as resilient and firm as her hometown of Hương Sơn, Hà Tĩnh, that woman makes me admire her so much. While she gained a master's degree and two bachelor's degrees, she still succeeded in both working and caring for her family. To have such courage could be extremely hard for people without disabilities, but she, a visually impaired person, really did it.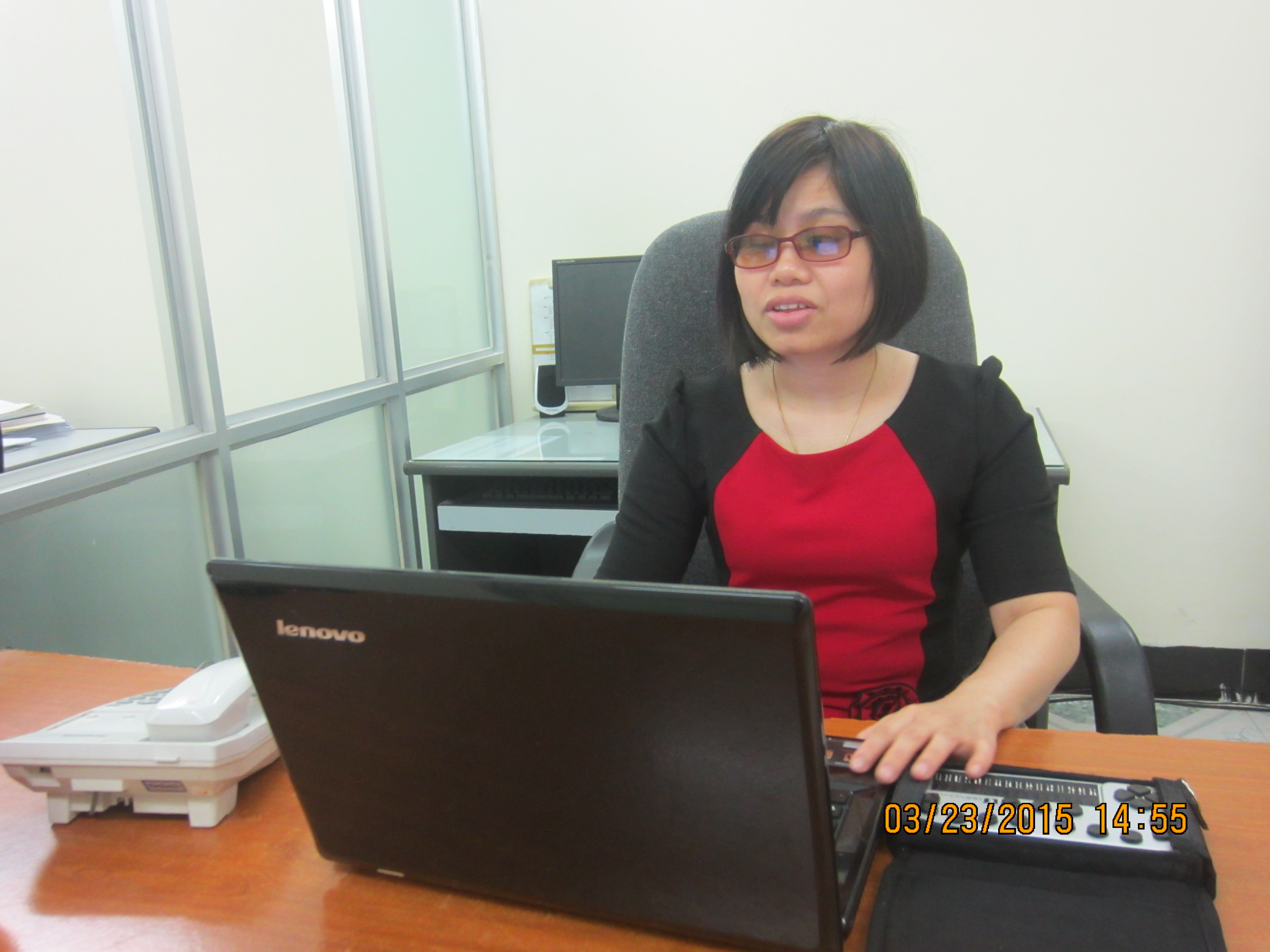 Being born in 1978, the little Đinh Việt Anh was growing up as normally as any other children. However, when she was 3, her parents discovered that she had macular degeneration. All the attempts of Việt Anh's family could only help her maintain her good vision until she was 15, which was enough for her to complete her education at grade 9. Since then, all of what she saw was just a dark night - as dark as her future. Nevertheless, it was unbelievable that 14 years later, that girl had in her hands two bachelor's degrees: BA of Social Management at Hanoi University of Social Sciences and Humanities (2000 - 2004) and BA of English at Hanoi Open University (2002 - 2007). Seven years later, Việt Anh successfully defended her master thesis majored in administrative management at National Academy of Public Administration (2014).
"The greatest challenge in my studying was the lack of time and study materials", said Việt Anh. Truthfully, during 7 years from 2000 to 2007, she was student at two universities at the same time and also teacher of the Training and Rehabilitation Center for the Blind. She took some other responsibilities at this center as well. During the time she was doing her master's degree, she was the Vice Director of the center and then transferred to Vietnam Blind Association. However, perhaps the hardest time was when she hadn't know how to use computer (from 2000 to 2003), especially in dealing with English. She had to ask other people to spell word by word so that she could write it down in Braille. After she became proficient in using computer and her English study got easier, she learned Japanese from books in Braille and from the internet.
Now she is a standing member of Vietnam Blind Association, editor in chief of Đời Mới Magazine, head of the Association's Section for Women and Children, and also the holder of some other positions. Her proficiency in both English and Japanese has brought her chances to participate in a lot of international special courses and conferences for the disabled, such as computer skills training courses for the blind in Japan and Malaysia, DAISY digital talking book producing class in Thailand, computing teacher for the blind training course that followed the lead of experts from Swedish, and the Future Young Blind Leaders Dialogue in Thailand.
Besides, Việt Anh spends time for social activities such as cooperating with many charities and sponsors to conduct visits on some occasions for children with special needs, or running English courses for the blind and their children with the help of volunteer students, etc.
Though she is very busy at work, she has never neglected her duty at home. For both Việt Anh and her husband are visually impaired, she has to take care of things at home all by herself. From preparing breakfast for the whole family, taking her daughter to school, cleaning the house and doing the laundry in the afternoon, etc. to bathing her daughter, playing with her, teaching her, lulling her to sleep and dealing with unfinished pieces of work of the day.
Đinh Việt Anh, who always lives by the motto "Words mean nothing without actions", fully embodies the virtue of Vietnamese women. Her success both at work and in family life has made her a fine example to not only the disabled but also every woman.
Chia sẻ bài này qua: