A VISUALLY IMPAIRED GIRL WHO REFUSES TO SURRENDER TO FATE
If you make a call to the Call Centre in Global Travel section of Stock insurance company AAA, you may hear her nice voice. Not many people could believe a girl with such a beautiful voice was visually impaired.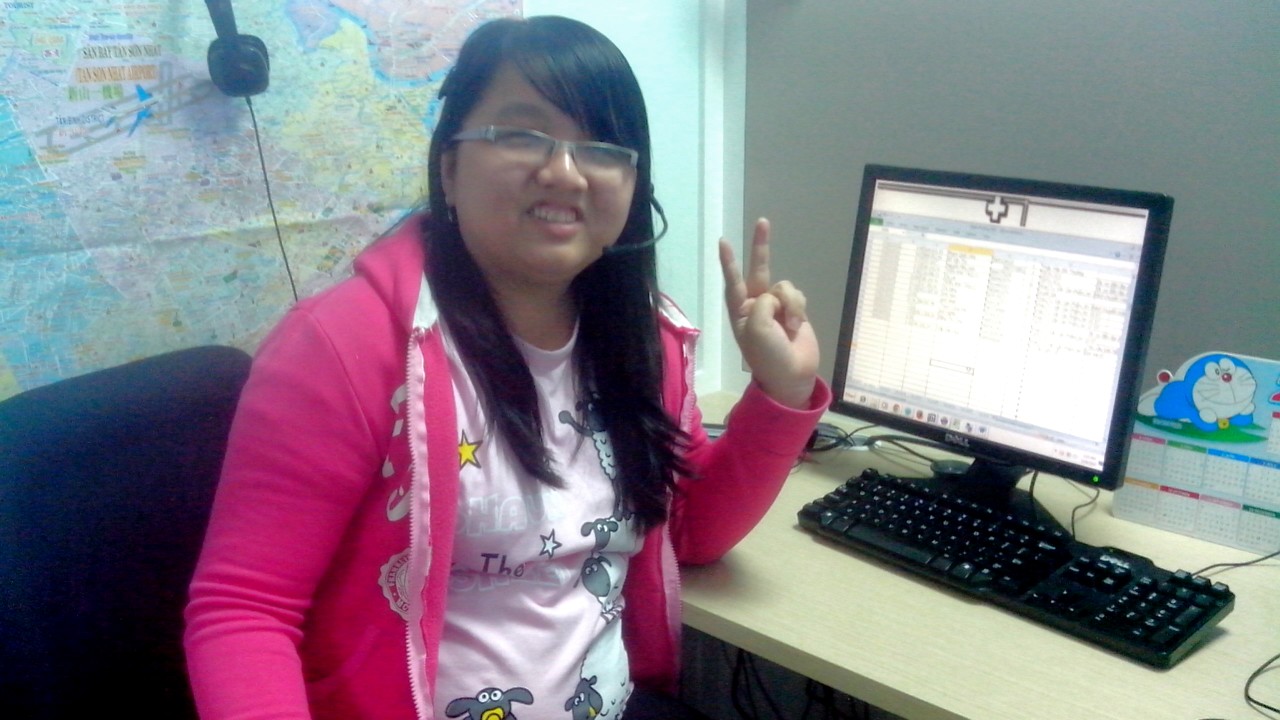 Hồ Phạm Uyên Phương was born in 1986 and lost her sight from birth. It was not until she was 3 months old that her parents discovered this. All her family's efforts were in vain when all doctors shook their heads because there was no cure for this condition. Refusing to surrender to fate, the little Uyên Phương was like a young plant which always grew towards the light. She was good-graded student during 5 years at primary school and then graduated in the first place with the score of 19.5/20 in 2001. In the same year, Phương received a commendation for being good student among all students in HCMC.
Like a miracle, when she was 15, medical development helped to heal her eyes by placing an artificial lens inside it. At present, Uyên Phương can read letters in big size by using magnifier. Since she had low vision, she has never stopped trying to develop herself. In 2008, Uyên Phương became a student in the Faculty of Special Education at HCM University of Pedagogy. In 2011, together with a group of friends, she was awarded the first prize in the Student Scientific Research National Contest held by the Ministry of Education and Training, and also the first prize in HCMC provincial contest for the research on canes with light and sound signals for the blind. In addition, she received a commendation for the youth with excellent performance in 2010 and 2011. Graduated from the University of Pedagogy with good results, Phương got a job at AAA assurance company. At present, her main duty is to receive information, create assurance profile for clients, and to deal with international emails and phone calls as well. Besides, she assists her director of the Call Centre to train new staff in customer services.
Hồ Phạm Uyên Phương is also a familiar name in Vietnam disabled sports team. Being a main athlete of Vietnam National Athletics Team and HCMC Athletics Team, Phương has won a number of medals from 2003 to 2011: Bronze medal in Asia - Pacific championship, more than 10 medals in all Paragames from 2003 to 2009 and more than 30 medals in other national sports competitions for the disabled from 2003 to 2011. She has been twice awarded commendations for sport activities by the Prime Minister.
As a lively and active girl with singing talent, Uyên Phương participated in many musical shows. In 2007, she won the second place in the singing contest for students held by HCMC Department of Education and Training. In 2014, she was voted as the most impressive speaker in the Christmas contest of AAA. Now Phương is also a member of the company's arts and communication teams.
When I was talking to Hồ Phạm Uyên Phương, I always found the open-mindedness and the enthusiasm from this lovely girl. I would like to quote her at the end of this text, "I am much luckier than other visually impaired people. I hope that more and more organizations as well as companies will welcome the visually impaired so that we have chances to show our abilities and earn stable income."
Chia sẻ bài này qua: