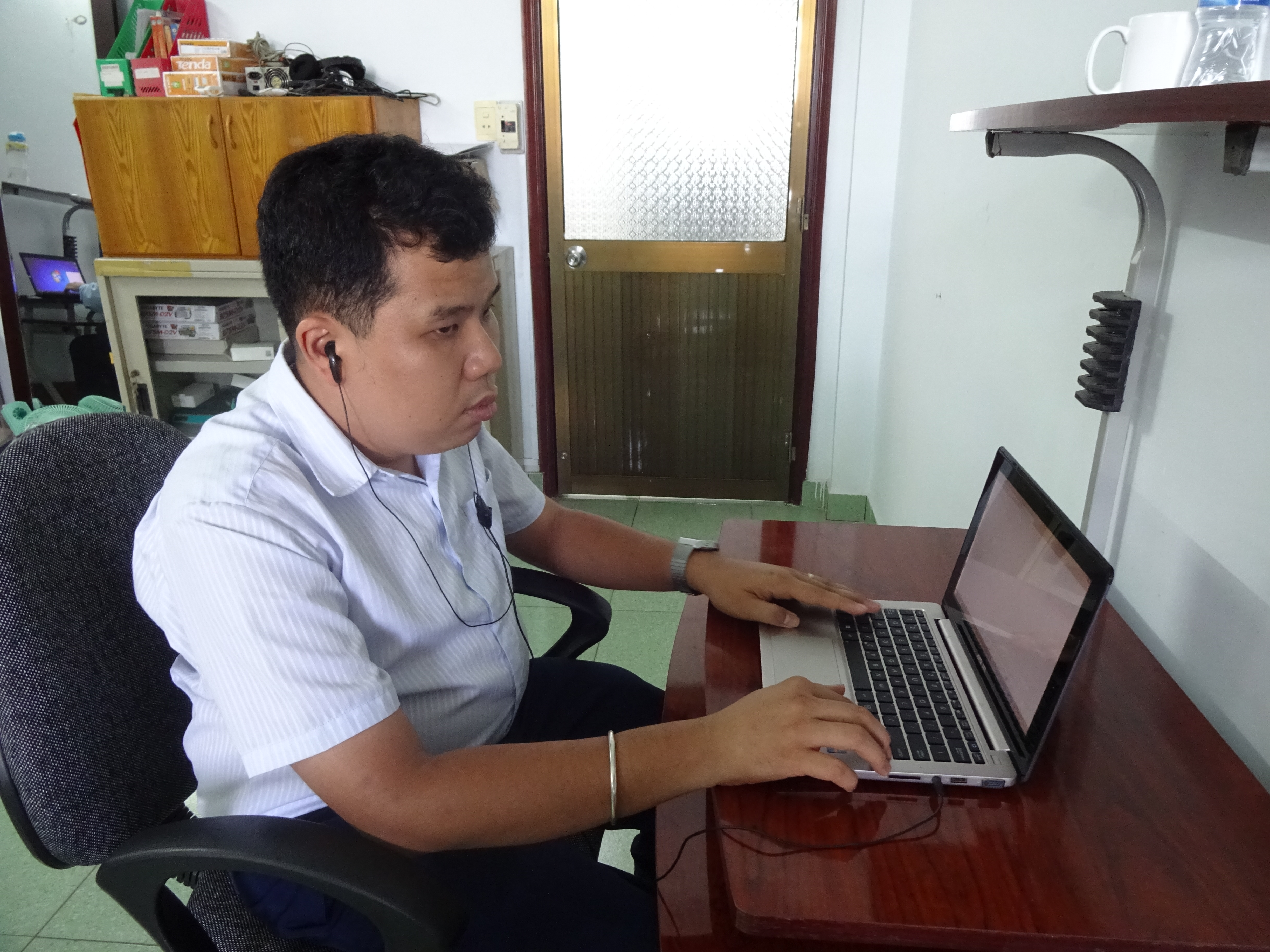 Anyone who meets him for the first time would be very impressed by his sense of humor and his laughter. The visually impaired community in Hồ Chí Minh City usually call him by:  Mạnh Hùng "Sao Mai" (from Sao Mai Center), Mạnh Hùng "cờ vua - cờ tướng" (the chess player), etc; so called because he takes responsibility for many positions in different organizations. Indeed, Nguyễn Mạnh Hùng, MA in Psychology, is now the Assistant Director of Sao Mai Vocational and Assistive Technology Center for the Blind, the Administrator of Para Vietnam Chess - a website about chess for the disabled which is affiliated with Vietnam Chess Federation, and also the event-organizing contributor to Hồ Chí Minh City's Talking Books Library for the Blind. While the Vietnamese blind are facing a lot of difficulties in finding a job, Nguyễn Mạnh Hùng is a very special case.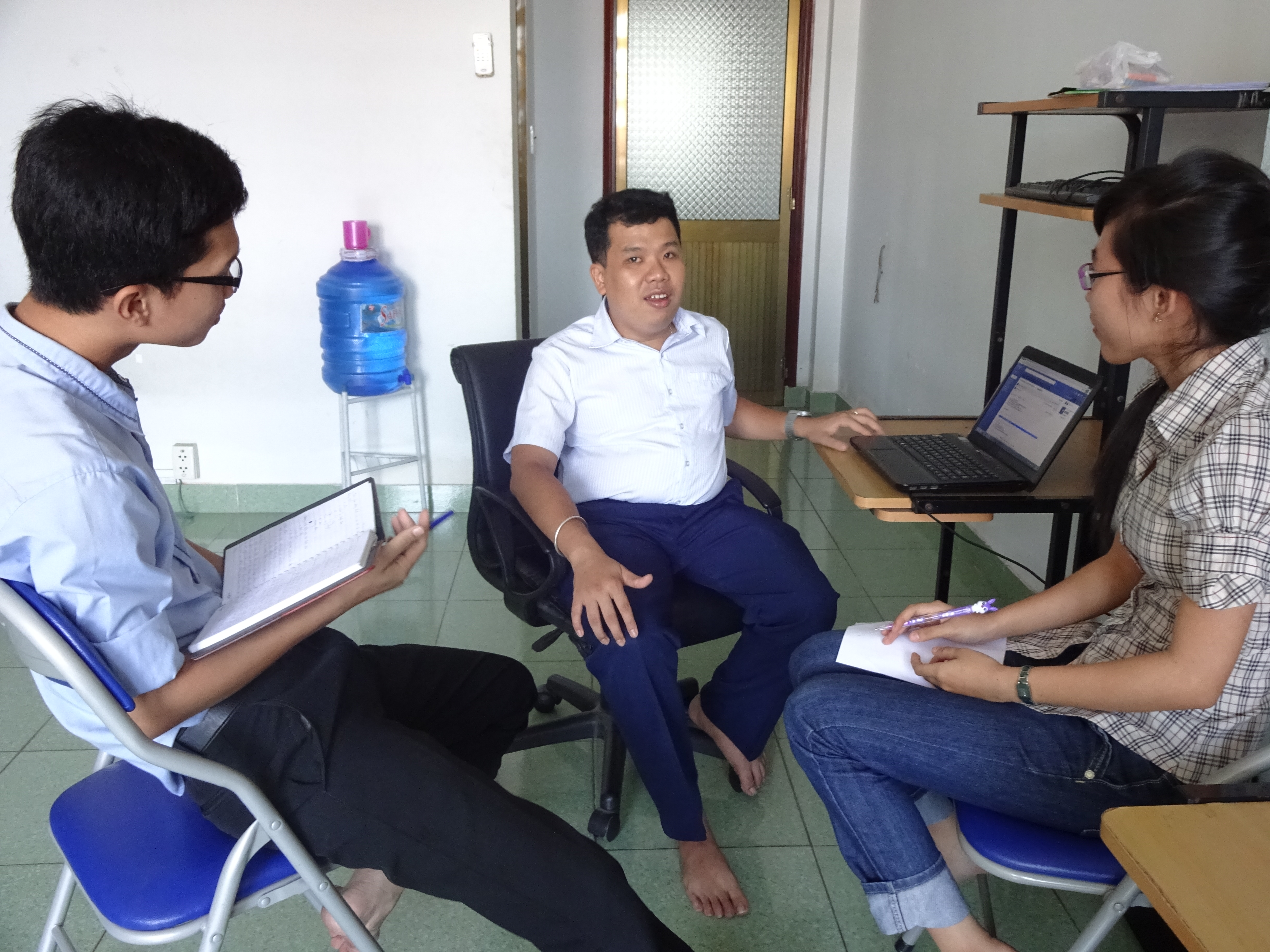 Nguyễn Mạnh Hùng was born into a family of workers in 1983 and was growing up as normally as any other children. When he was in grade 4, the sequelae of tuberculous meningitis took away his eyes and he had to live completely in the dark from then on. Twenty years of spikes and thorns has passed. Now it is the time for his attempts to be rewarded.
At Sao Mai Center, Mạnh Hùng is responsible for organizing soft skills training courses for the blind. Being an active and clever man, Hùng is really an appropriate person for this job. He always studies and searches for solutions to every problems in life that the visually impaired need to be supported when they integrate into wider community. Many vocational courses are regularly carried out and have received positive responses from a lot of students. Some of them are: How to start a business online, CV writing skills training, Interview skills training, etc. "Although I am a blind man at present, I used to study and work with sighted people a lot when I was young. That's why I know what the visually impaired lack."
Hùng also gives advice without charge to all of the visually impaired in HCMC and suburban areas by telephone or internet. He is also willing to support parents whose children are visually impaired.
As an important player in HCMC disabled chess team, Nguyễn Mạnh Hùng won a lot of gold, silver, and bronze medals. Not satisfied with himself, Mạnh Hùng harbors the dream of creating many playing fields for the blind. He called for organizing lots of chess championships which attracted hundreds of visually impaired players from all over the south of Vietnam. In particular, he is the author of a guide book to chess for the blind. Moreover, he is the designer and producer of many special kinds of chessboard for the blind to integrate into the wider community. With these special chessboards, they will be absolutely confident when they join in professional competitions with people who don't have disabilities. "I hope that, with chess, the visually impaired will find not merely a game but a way to cultivate their mind," said Mạnh Hùng.
Perfectly arrange the schedule, always find ways to train yourself and gain experience everytime, everywhere. That's Nguyễn Mạnh Hùng's key to success. When we were saying goodbye to each other, I knew that Mạnh Hùng still had a lot of plans to contribute to his community. I wish he will be more successful and the Vietnamese visually impaired community will have better and better life.
Chia sẻ bài này qua: